We are very please to be able to support, in different ways, a variety of ministries, both locally and further afield.
Blythswood Care
Blythswood Care is a Christian charity that supports the vulnerable and impoverished in Eastern European countries through practical support and education.
For many years we have supported their Christmas Shoebox Appeal, providing gifts for all ages which are then sent to places such as Romania, Hungary, Bulgaria and Albania. These gifts fulfil a practical need for toiletries and warm layers, but also demonstrate the love of Jesus to those who feel forgotten and abandoned.
Blythswood Care Shoebox Appeal
Canterbury Christian Schools Work Trust
Canterbury Street Pastors
Canterbury Christian Chinese Church (CCCC)
CCCC meets every Sunday for Sunday worship (Cantonese/Mandarin) at 1.30pm and they run several Bible study groups in Cantonese and Mandarin.
Bible small groups meet on Tuesday morning and Friday afternoon and evening
All the above meetings are at St Andrew's Church, Watling Street, Canterbury CT1 2UA.

CCCC also organises social activities – Chinese meals, trips, film nights, badminton and more! All events and activities are free, just come along.
CCCC contact details:
Mobile: Leiping on 07873 498965
Canterbury Food Bank
The Canterbury Food Bank seeks to provide and support families living in short-term financial crisis in the Canterbury area. Along with advice and education, donations of food and other household essentials help to make up packages which are then distributed to get these families through difficulty.
The Food Bank is a vital service that is helping to tackle the issues of poverty and hunger in the area, and here at St. Andrew's we have a Food Bank bin (which can be found in the entrance to our church) for those willing to make a donation.
At our recent Harvest Festival service and Spring Piano Recital, all donations brought went directly to the Food Bank. Many thanks to those who contributed.
For more information on the Canterbury Food Bank and the work they do, please visit https://www.canterburyfoodbank.org/.
Favour House Church
A more recent partnership has developed with Favour House Church and their monthly 'Healing Wings' services. On the first Saturday of the month from 4-6pm, a service of praise and prayer is held at St. Andrew's which is particularly focused on healing and restoration.
Our New Year Prayer week also took place in partnership with them. We provided a prayer guide on the transforming work of the Holy Spirit, and they led lunchtime praise and prayer sessions. Out of this developed the desire to commit one lunchtime a week during 2023 to seeking God's presence, which we do on Thursdays from 12 – 1pm.
Friends International : Global Café
Saturdays, 7:30-10pm, in Oasis Café
A free café style social events for international and overseas students in Canterbury every Saturday evening during term time. It is the perfect place to relax, have fun and make friends from all over the world! Come and join us for free tea or coffee & refreshments, table tennis, special theme nights and games. We also offer a short Bible study in simple English for those who are interested. Global Café is run by a team of local Christians, but we welcome everyone whatever their background or faith.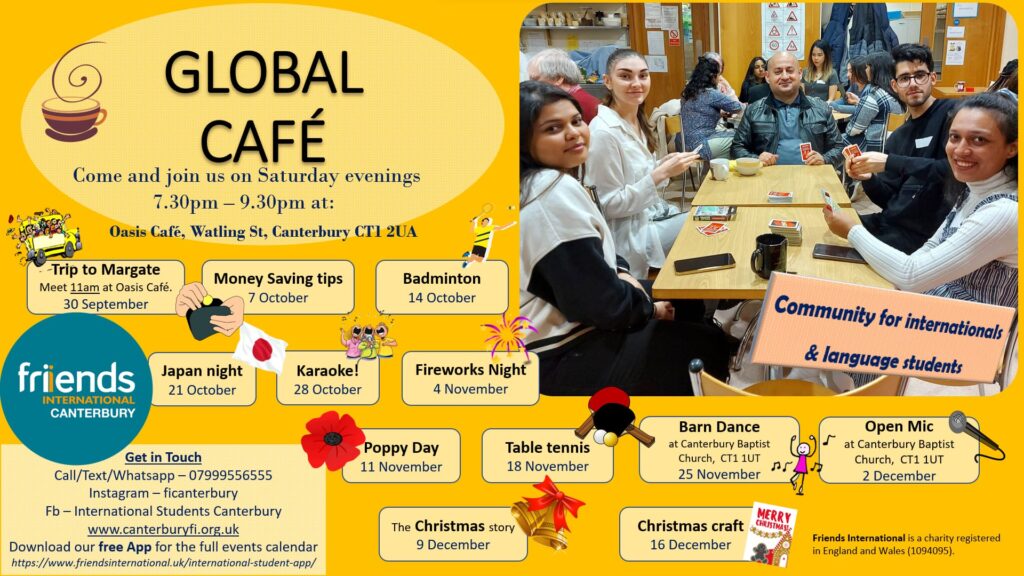 Kenya
We have long-standing links with a church and community in Kenya, which developed through the friendship between our minister in the 1990s and their pastor, Daniel Gitau. Over the years, we have seen the development of healthcare and education facilities that provide better opportunities for those who live there.
Vaughan and Au Goodchild – Philippines